A white label is all about platform branding. Using the most popular trading platform on Planet Forex, MetaTrader 4 (a.k.a. MT4), we decided to pop the hood of a branded MT4 and give you a look.
Let's say that you want to start your own private FX label, MyFXBrand. In this post, we'll proceed to show you precisely where your trading clients will see your brand displayed. We will also give you the exact image specifications (size, format, etc.) MetaQuotes (the only provider of MT4) requires to white label their award-winning platform. Based on our years of experience setting up a considerable number of private labels, we'll provide suggestions and tips to make the lives of your graphic designers a lot easier – with the goal of displaying your brand as optimally as possibly on MT4.
The New Kid on the White Label Block
As a new white label, your brand probably does not hold much allure for your potential customers right out of the gate. Nevertheless, it plays a big role in creating the first impression that will sway future clients to open accounts and trade with you or not.
Jeff Bezos, the founder and CEO of the e-commerce giant Amazon.com, put it eloquently:
"A brand for a company is like a reputation for a person."
If your reputation is weak, not many people are going to want to do business with you. That is why your Forex brand MUST appear stronger than oak.
And it all starts with your logo images…
Image Specifications for MT4 Private Label
The following table provides a summary of the images we'll be discussing throughout this post; the logo images MetaQuotes requires to brand the platform of every new white label sign-up. Please note that the image size or dimensions are given in pixels, with the width (W) of the image stated first and the height (H) last; for example, 131×151 means an image that is 131 pixels wide by 151 pixels tall. BMP stands for "Bitmap," which is a specific image file format with a .bmp file extension.
MetaQuotes Image Specs Table
| Image Type | Size | File Format | Color Depth |
| --- | --- | --- | --- |
| Banner | 500x60 | BMP | 8-bit |
| Icon (ICO)* | 16x16, 32x32, 48x48 & 64x64 | ICO | 8-bit & 32-bit |
| About Logo | 131x151 | BMP | 24-bit |
*Footnote: Eight (8) total BMP images are used in the creation of the ICO – one set of four (4) images (sizes 16×16, 32×32, 48×48 and 64×64) using an 8-bit color depth and another set of four (4) images using a 32-bit depth – which makes a total of eight images.
The Platform Images in Depth – Tips and Suggestions
In this section, we'll complete the branding process of your own private Forex label, which we introduced at the beginning. Not only will we show you the final version of each of the individual image elements included in the previous table, but also demonstrate exactly where on the platform each MyFXBrand logo will appear. Most importantly, we'll include tips and advice to help you do the best job possible when you're ready to start creating the logos yourself.
Ready to see your own white label come to life? Here we go…
The MT4 Program Installation Banner
The installation banner is the first place your clients will see your brand on the MetaTrader terminal. After downloading and double clicking an executable file (e.g., myfxbrand4setup.exe) to install the trading platform, a pop-up window will appear asking the user to proceed. The installation window includes a rectangular 500×60 pixel image as a header. Here's an example of a header we designed for MyFXBrand:

Here's how the image will look on the actual installation window: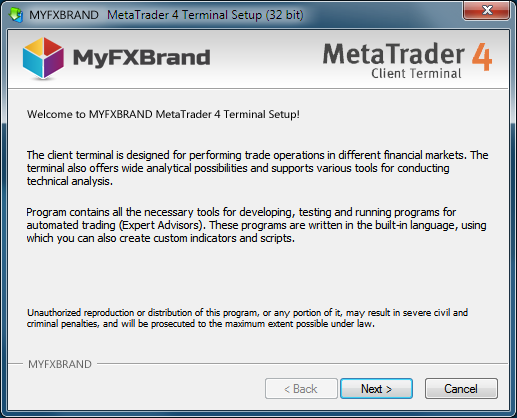 MetaQuotes suggests that you create the installation banner by combining your own company logo with their own (like we did to create the one above), but this is not required. The white label broker can also display their own brand exclusively.
For aesthetic purposes, we do suggest that if your logo is not wide enough (occupying at least half of the width of the available space), you do one of two things when designing your banner:
Combine your brand name on the left with the MetaTrader logo on the right (like in the example above); or

Add some bullets or information about the benefits your company provides to the right of your company logo.
An example will help you visualize this second suggestion better. Let's say that one of your strong points is educating traders and that you do it for free when a client opens and funds an account. If this is so, some of the banner bullets can highlight this; for example, "Free trader education," "Professional training," "Learn to trade for free," etc. Alternatively, you can add a longer statement that highlights the main incentive or benefit your company provides, such as, "Learn to trade like a pro with our free, live training."
The 500×60 pixel area is your canvas. It's yours to create your own masterpiece. Make sure that you take full advantage of it by showcasing your brand in a powerful and attractive way (to download the final version of the 8-bit bitmap of MyFXBrand that meets MetaQuotes specs, click here).
The Logo Icon – Does Your Entire Brand Fit?
MetaTrader was designed for the Windows operating system. ICO files are images used to store icons and their format is native to the Windows environment. ICOs consists of one or more small images of various sizes and color depths that are used by programs (like MT4) to display these images in various places to the users; for example, on the desktop, in the Start Menu, in Windows Explorer, etc.
Once a trader installs a branded version of MT4, a terminal.ico file inside the platform's program folder is used to generate certain icons in different sections of the program. In order for these icons to display correctly, the introducing broker registering the white label must provide MetaQuotes an ICO file consisting of 8 total squared bitmap images, with the specifications provided earlier.
Unless your company logo is squared and very basic in nature, you probably shouldn't try to shove your entire brand into an ICO. In fact, we usually recommend that new private labels reserve only the symbolic part of their logo for the icon file. Let's take the MyFXBrand logo example from the prior section. The logo displayed on the banner was rectangular in nature and consisted of the colored cube image on the left and the textual portion of the brand name next to it. That same logo would not be ideal for the squared ICO, since it would look to small in a square format. That is why we only used the cube portion to create the icon.
The 4 side-by-side images below display the corresponding sizes that make up the ICO file, starting with the largest 64×64 pixel bitmap image on the left and ending with the smallest one on the right (16×16 pixels).

When an 8-bit and a 32-bit set of the images above are combined, the white label icon is born (click here to download the MyFXBrand ICO file in the correct format MetaQuotes requires).
Here's how the icon would look after it is added to the Windows Desktop when MT4 is installed:

The screen-shot below shows shows how the 16×16 pixel icon is displayed in the upper left hand corner of the client terminal.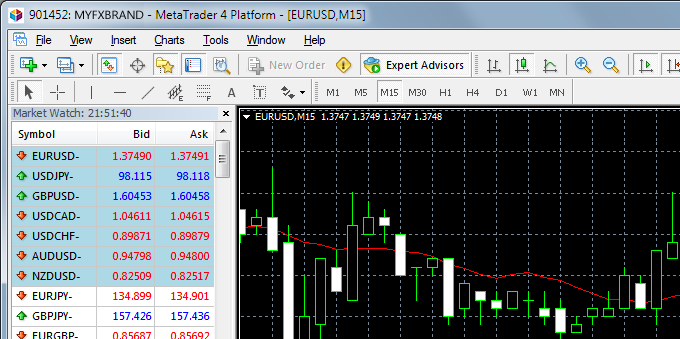 The icon also appears on the Windows Start menu as shown below.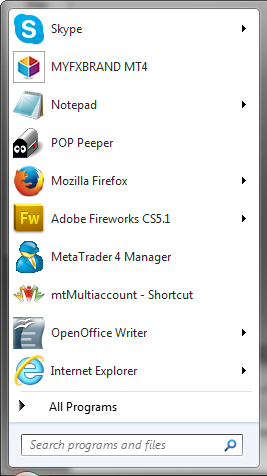 To create the MT4 ICO, you can either use a professional program like Adobe Photoshop or Fireworks. You can also download a free 30-day trial of IcoFX , which MetaQuotes makes reference to in their documentation. There are many other programs out there that can be used as well.
MT4 About Window Logo
The About section is one of the most important areas of the MT4 platform because it contains the company's name and contact details, which add to the "real life" feel that customers value when doing business with a legitimate and credible organization. A trader can access this section by first clicking "Help" on the main menu and then "About."
The About window also includes a 131-pixel wide by 151-pixel tall boundary to the left of the company information section that is supposed to house the logo of the white label provider. This is the first place that your customers will look at when they pull up your About section, so you need to make sure that your brand is displayed prominently and professionally in this space.
MetaQuotes states that the 131×151-pixel dimensions represent the maximum width and height (WxH) that the About logo can occupy respectively. While this means that a private label provider could potentially create a logo that is smaller than 131×151 pixels to brand the About section , we do not recommend that you do. Instead, we suggest that you utilize as much of the allowable screen space as possible to make your brand stand out. When all is said and done, a well-designed About section will go a long way in strengthening your foreign exchange brand.
If you designed your About section correctly, it should look something like ours below, which includes the 131×151-pixel MyFXBrand logo on the left hand side of the window.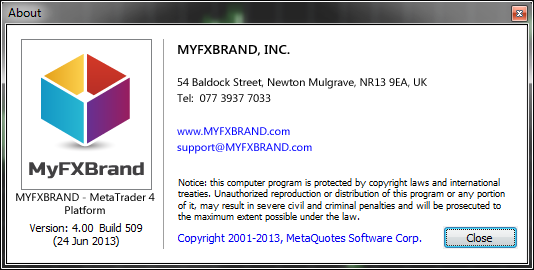 To download a 24-bit MyFXBrand About section logo that adheres to all of MetaQuotes requirements, click here.
Now, It's Your Turn to Execute
If you have made it this far and commit yourself to creating your private label MT4 logos based on the advice and information we have provided is this article, the odds to succeed as a strong white label brand are in your favor. As a new Forex company, you'll want to leave your potential customers with a good first impression – and you won't get a second chance to do so. Given that your brand name and logo will be the first thing your future customers see on your website or platform, you need to make sure that their effect is a positive one. Even if you feel your platform logos, banners and icons look good, they are too important to fumble. You NEED to make sure that they won't be perceived as anything but stellar by your end user – so here's what we suggest…
Before you display your brand to the Forex community, make sure that you gather plenty of opinions from different sources. Cast votes among your staff or have a meeting to discuss the matter. Send a survey to to a group of past customers, friends or anyone else you can get an opinion from. This will give you a pretty good idea of the shape your images are in and how future clients will perceive your brand. Give it a try and let us know how successful the launch of your own FX brand goes.
If you are interested in starting your own white label and would like to learn about all the benefits and cost savings that our program will offer you, please click here to complete our form.